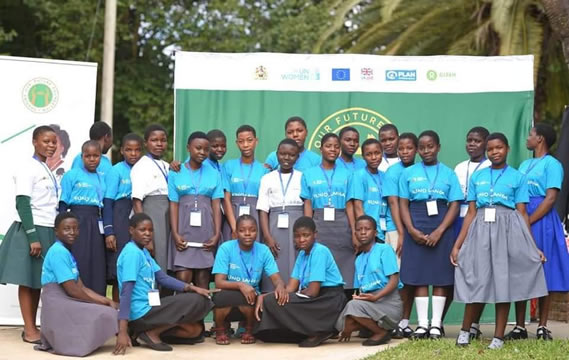 official Closing Ceremony of the Girls' Empowerment Retreat for 2022
This afternoon I presided over the official Closing Ceremony of the Girls' Empowerment Retreat for 2022 which started on Monday at African Bible College (ABC) in Lilongwe, whose theme was: Funo Langa – My Dream.
I was particularly happy for the 257 girls from various secondary schools across the country who have benefited from this mentorship programme, which was officially opened by Her Excellency, Madame Dr. Joyce Banda, the Former President of the Republic of Malawi.
Let me extend my profound gratitude to UNICEF Malawi, Shaping Our Future Foundation (SOFF), World Vision, Times Group, Lawi Group, and African Bible College for partnering with the Girls Secondary Education Trust to have a successful 2022 Girls' Empowerment Retreat.
I would like to congratulate Girls Secondary Education Trust and the Board of Trustees for organizing this Retreat.
The Retreat could not have come at an opportune time than this one, when a number of challenges are obstructing girls from realizing their dreams. These challenges include: Poverty, dropping out due to early marriages and teen pregnancies, declining performance, dropping out of school and gender discrimination.
In 2019/20 Academic Year, a total of 29, 122 learners dropped out of secondary school. Of these, 18, 249 were females, representing sixty-three (63) percent. A majority of the girls dropped out due to school fees, pregnancies and early marriages, in that order.
It is everyone's duty to make sure that girls who drop out of school are brought back so that they complete their education. Through the Readmission Policy, my Ministry is encouraging and ensuring that learners, including girls who drop out of school due to pregnancy, return to school. Currently, the Ministry is working with its partners to assess the implementation of the Policy so that we can identify gaps and find the best ways to implement this Policy.
We have also put in place structures such as Mother Groups to make sure that girls are able to go to school and finally graduate.
The other intervention is the provision of bursaries by Government and its partners such as UNICEF, EU, Shaping Our Future Foundation, CAMFED, etc.
In addition, Government and its partners are constructing girls' hostels in a number of secondary schools in the country.
For example, UNICEF through the SPOTLIGHT Initiative is constructing hostels at Mpatsa and Magodi in Nsanje and Puteya in Machinga while Press Trust and Standard Bank are constructing a twin hostel at Lilongwe Girls Secondary School.
It is, therefore, imperative that we all hold hands in supporting girls' education so that no one is left behind.