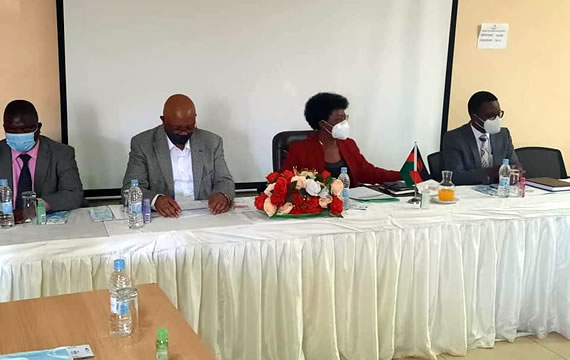 Increasing the implementation of Science, Technology and Innovation in Malawi
MINISTER OF EDUCATION, HON. AGNES NYALONJE IS THIS MORNING PRESIDING OVER THE NATIONAL CONSULTATIVE COMMITTEE MEETING OF THE AFRICAN UNION DEVELOPMENT AGENCY (AUDA-NEPAD) ON ENHANCING THE DOMESTICATION OF SCIENCE, TECHNOLOGY AND INNOVATION STRATEGY FOR AFRICA (STISA) 2024 IN MALAWI
The meeting's theme, is "Increasing the implementation of Science, Technology and Innovation in Malawi."
The meeting is being hosted by the National Focal Point (FP) on the Calestous Juma Executive Dialogue (CJED). The Calestous Juma Executive Dialogue on Innovation and Emerging Technologies (CJED) was established by AUDA – NEPAD and African Union High Level Panel on Emerging Technologies (APET) in collaboration with the African Union Commission in 2018. CJED seeks to build a cadre of policy and decision – makers who would champion STI and emerging technologies in Africa.
The main role of CJED Focal Point is to act as "catalyst" to assist the process of STI mainstreaming in a respective African Governments. While FPs may be directly involved in implementing certain specific STI activities of CJED, their contribution would focus on coordination and management of the CJED short courses in country to identify strategies and work methods that will enable to build further the capacity of country stakeholders to integrate STI concerns into their own areas of work.
Presently 4 FPs are operational in Africa including; Malawi, Ghana, Nigeria and Gabon. Malawi is hosting this Consultative Meeting through Professor Leonard A. Kamwanja, AUDA-NEPAD FOCAL POINTS PRESIDENT. Malawi has so far conducted two workshops on STEM with Nalikule College of Education (NCE) and Lilongwe University of Agriculture and Natural Resources (LUANAR) with technical backstopping from Chancellor College and Mzuzu University. Resource Persons and participants to this consultative meeting will come from your ministry, Honourable Minister, NCST, Ghana FP, Nigeria FP, Malawi University of Science and Technology (MUST) and local innovators.